The Mandisa Chronicles
In this adventure, I describe the weekend my sister Kelly and her boyfriend Morris joined me for a sail. I had unfortunately badly injured my back the week before, but liberal doses of medication, both prescription and non-prescription (Corona's, mostly) got me through it.
| | | |
| --- | --- | --- |
| 2002/08/17 | | Wherein Mandisa is joyously sailed about San Diego Bay with Kelly, Morris and a painfully injured yours truly. |
2002/08/19, Getting a Move'on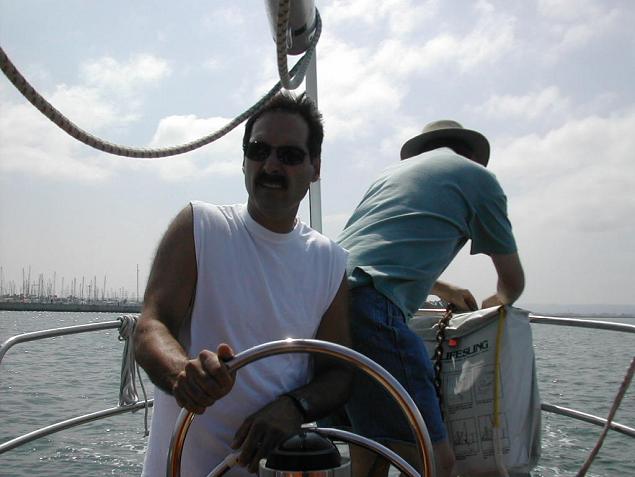 Morris and Kelly did most of the driving this week, leaving me free to nurse my back and handle sail changes. We got started right after breakfast and headed out into the channel. South San Diego Bay is extremely shallow, and you really have to hang with the dredged, well-marked channel if you have anything over three feet of draft, which Mandisa does. (She draws 4 1/2 feet, loaded, less than that in her current state.) I had just had a diver scrape the crud off the bottom and prop just a few days before we got out to San Diego, and I was anxious to see what the removal of six-foot lengths of crud would do for performance. It just had to be an improvement over the performance of my last trip out in which it maneuvered through a tack more like a floating semi-truck container than a sail boat.
2002/08/20, Driving the Boat Hard, Kevin and Kelly Have a Tiff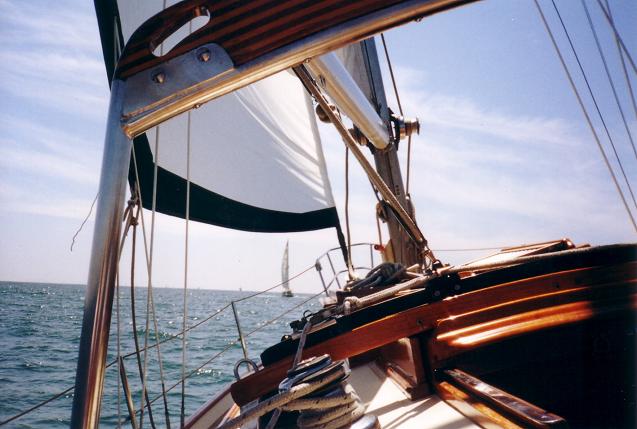 We had pretty good wind every day we were there. The San Diego waterfront provides nice calm mornings, usually a bit overcast, clearing to beautifully sunny by around 10 or 11. with the wind picking up at about that time. We had great sailing nearly all the time. One little thing kept bothering me, though. The boat seemed to be heeling way too much to me for too little speed. When other boats were heeled over somewhat, we'd be pushing the rails to the water. Not that this bothers me on the surface, I just know that it puts lots of strain on the boat unnecessarily, especially if we can get more speed with less heel.
So I wanted to try different sail configurations, including rigging up the staysail and rolling in the jib a bit to balance things. Nothing really had much effect on the heel, though, and I'm looking forward to going back out there to play some more. But my efforts to reduce the heel bothered Kelly since she very much enjoys the sensation of sailing hard, and it was especially galling to her when, after all my badgering to ease up on the boat, I took the wheel and laid her over. I pleaded my case by asserting an owner's right to abuse his own vessel, but understandably, that was small consolation to Kelly.This picture was taken after leaving the bay and heading out to sea for a while. We pledged to sail out till Morris turned green, which he did quite soon, so we headed back and refueled.
2002/08/21, The Way Lunch Ought to Be
After bombing around all morning, it was time to get something to eat. Now, Mandisa is a fully equipped vessel, boasting a lovely little galley with fridge, sink and propane stove/oven combination, so we were perfectly capable of cooking our own meals. But I've never tried the oven, and I'm not all that convinced that the propane connection has any integrity, and besides, I wanted to sail up to a restaurant for lunch. How often do you get to do that anyway?
So I barked a series of orders and the crew sprang handily to their duties and helped execute a perfect docking maneuver under the watchful eyes of perhaps 50 patrons of the diner, which is something I would never have attempted a year ago. I must be getting better at this. (I am embarrassed to report that I forgot the name of the place; Anderson's Fish Something comes to mind.)
Here you see Morris explaining to me how he forgot his wallet. It turns out that Morris is a cheapskate bum, something that Kelly doesn't really know, and I hesitate to tell her because she likes him quite a bit. So it's our secret, okay? (Just kidding, Morris paid more than his own way, and was great company, as well as welcome help to me in my weakened state.)
2002/08/21, What Can I Say?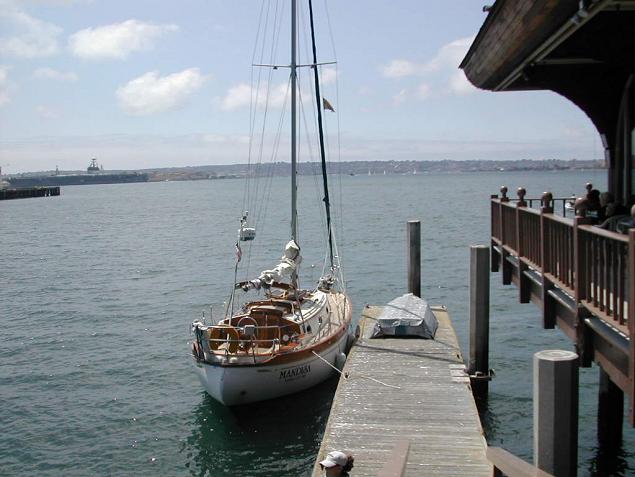 As we ate lunch, we (and everybody else in the place) kept an eye on Mandisa. The food wasn't very good, but it was great fun to go to a sail-through restaurant.